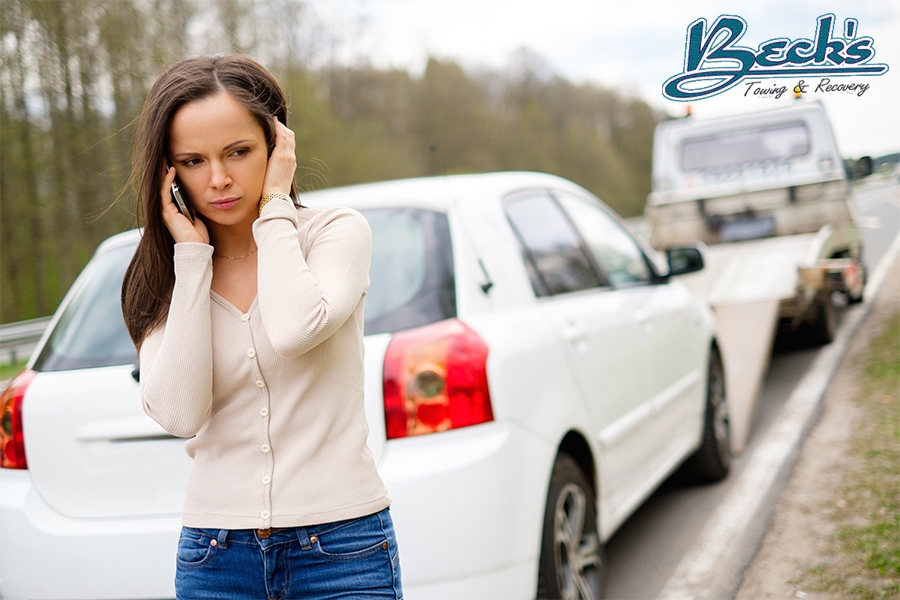 Information on Roadside Assistance
Roadside assistance is offered through many companies and is meant to assist drivers when they are unable to make it safely to their destination due to a breakdown. At Beck's Towing, our roadside assistance is available 24 hours a day, 7 days a week, so that you never need to worry about getting stuck away from home.
When to Call Beck's
The best time to call for roadside assistance is as soon as you notice you're unable to move your vehicle. This is especially true on busy freeways, where travelers drive at high speeds which can be dangerous to parked vehicles stuck on the roadside. If you can get the vehicle moving again by cooling the engine or changing a flat on your own, do so quickly with emergency blinkers on, and get back in your vehicle as soon as possible.
If you find yourself without gas, needing a jump start, or even if you've locked yourself out of your vehicle and don't have a spare key, Beck's Towing roadside assistance will help get you started again.
Beck's Towing & Recovery
Address
410 North East 5th Avenue. Boynton Beach, FL 33435
24/7 Towing Service
561-369-1096
Office Hours are Mon – Fri 8 am – 6 pm
(CLOSED ON WEEKENDS & NATIONAL HOLIDAYS)